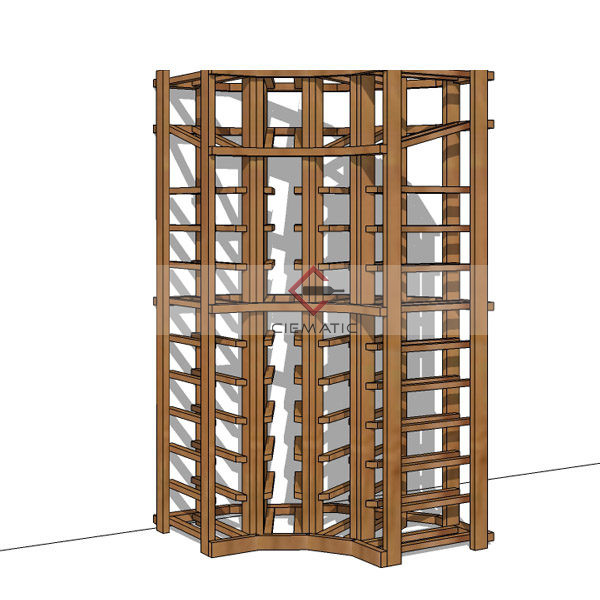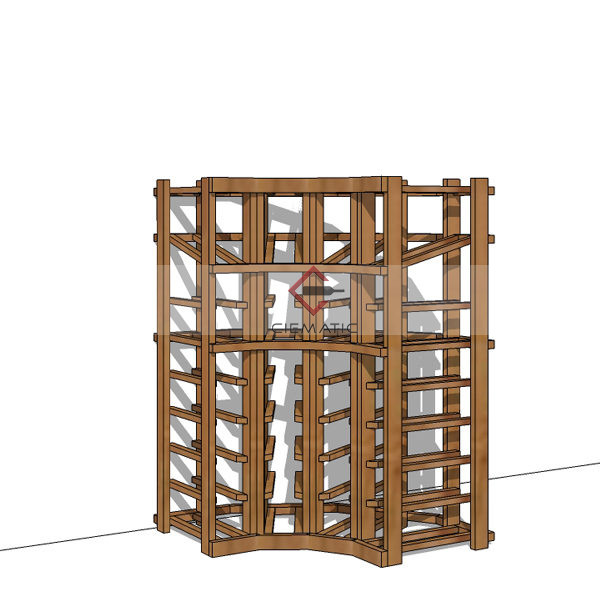 Curved wine rack kits CR171
No ideas about solutions for cellar corner? Try the DIY curved wine rack kits from Ciematic! Make the corner useful!
Description
Pine wood, redwood & mahogany available
Modular & Stackable
4 columns available
Height 3, 4, 6, 7, 8, 9, 10 feet available
Compatible to other modules
Semi-assembled
Knock-down & flat-packed
This racking is suitable for: Bordeaux 750ml Burgundy 750ml Small Champagne
Check the details size below:
CR171-3FT
1 Column
Width – 24 13/16"
Height – 35 15/16"
Depth – 24 13/16"
Bottle capacity* – 32
CR170-4FT
1  Column
Width – 24 13/16"
Height – 47 1/8"
Depth – 24 13/16"
Bottle capacity* – 44
*: bottle capacity is estimated based on Bordeaux 750ml bottles.
Model CR171 is curved display racking kits for the inner corner. Ciematic offers kits in both 3 fee height (CR171-3FT) and 4 feet height (CR171-4FT). This curved racking is a quarter of a circle. You can also order 4 pieces to make a competed circle as an island in the cellar.
How Easy To Make An Order

1. Selection
According to the size & shapes of your bottles, select the suitable racking kits, tell us the models you prefer, and the size of your cellar or the place you would put the kits.

2. Payment
After you agree with the price, please submit the payment to us according to the proforma invoice signed.

3. Production
After received your payment, we will produce the final item accordingly. Lead time normally is 20 days.

4.Shipping
If you have shipping agent just send their contacts to us to arrange delivery with them, if you don't have shipping agent then we can offer door to door shipping for you.

5.Installation
After the wine cabinet/barrel racking arrived, you just need to put them at right place. For those with cooling system, you should keep them standing for 3 hours before switch on.

6.After sale
After the products arrived, you should install the components according to the assemble guide provided. If you meet any questions or need any helps, feel free to contact us anytime.